June 19 2012
3
19
/

06
/

June
/

2012
21:01
As I gift I purchased two more elements, strontium and selenium. This completes both the alkaline earth metal and chalcogen columns on the periodic table. This means that I have all of the non-radioactive elements in pure form.
The strontium came in a nice sealed bottle. It was filled with mineral oil to the top. The 5 gram piece was in two pieces. Because of strontium's low density of 2.64 grams per cubic centimeter, the volume of strontium was much larger than I expected.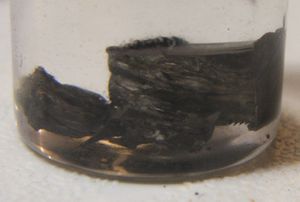 Here is some of the strontium that I removed from the bottle and placed in a glass vial. The surface is golden-tinged when freshly cut but quickly darkens. Strontium is not very soft; it is difficult to cut with a knife but flakes apart like cooked meat along the crystalline fractures. It is quite reactive with water, fizzing violently. The strontium hydroxide dissolves at first but soon begins accumulating due to its low solubility. This also inhibits the reaction with water.
Strontium burns with a bright red flame in air. The combustion occurs more easily than with calcium. Just like with the other alkaline earth metals, white strontium oxide remains behind.
Of course, strontium forms colorless compounds with a bright red flame coloration. I keep my strontium as the carbonate and as the metal.
Selenium is another story. I got 5 grams of black selenium granules with the strontium shipment. A nonmetal, selenium is brittle, black, and nonconductive. It softens in boiling water and easily melts with a small amount of heat, forming a mobile dark liquid. The vapor pressure from selenium at this temperature is significant. A rotten smell is noticed from this vapor.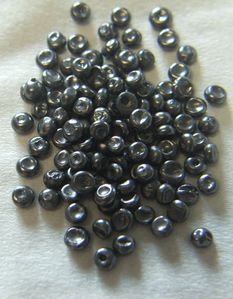 On further heating, a blue flame of excited selenium vapor is given off, as well as white selenium dioxide fumes. The toxic fumes smell like garlic. Deposition of dilute selenium vapor produces the red allotrope of selenium, while concentrated vapor contacting a cold surface produces the black allotrope.
Both of these elements together cost $26 from Gallium Source, including shipping.