April 17 2012
3
17
/

04
/

April
/

2012
15:31
I have compiled a list of sources for the elements that are available to the amateur chemist. Cerium will be discussed here.
Note: Since the rare earth metals are so similar to each other, I will only include the differences in the description to avoid constant repetition.
Cerium is one of the rare earth metals that is more susceptible to aerial oxidation, so it is normally kept under oil or in an ampoule. Cerium forms two oxidation states, a trivalent state which is stable in acidic aqueous solution and colorless under normal circumstances, and a tetravalent state. This state is more stable as a compound, not an ion, and so it is found in basic solution. Cerium dioxide is light yellowish, while other cerium compounds like the sulfate are very bright orange or yellow.
In element form: Ferrocerium contains about 50% cerium.
In compound form: Cerium dioxide is used as an abrasive and a polish. Some tungsten arc welding electrodes are "Ceriated" with 2% cerium dioxide.
Here is my sample of cerium. It is a piece of mischmetal, just like lanthanum.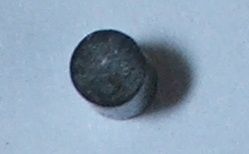 Feel free to view the category "Elements" below for information on obtaining the other elements.